Company
Our

Leadership
Our executive team brings proven experience and expertise in developing and commercializing innovative nuclear medicine products and technologies.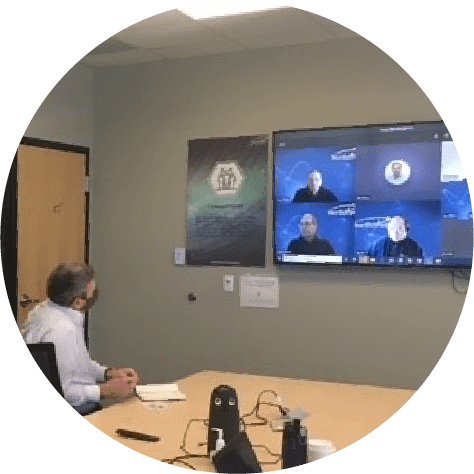 Diane M. Hendricks has served on NorthStar's Board of Managers since 2010 and was appointed Chairperson in 2018. Diane is also the Chairperson and sole shareholder of ABC Supply Co. Inc. ABC Supply is the largest wholesale distributor of exterior building products in the United States with more than 700 locations nationwide, 14,000 associates, and projected sales for 2018 of $10 billion. Diane and her late husband, Kenneth Hendricks, founded ABC Supply in 1982.
Through the ownership of Hendricks Commercial Properties, Diane is the owner of a large national portfolio of industrial and commercial real estate. Diane is also Chairperson of Hendricks Holding Company, Inc. ("HHC"), a holding company that includes a diverse portfolio of companies in manufacturing, service and distribution industries, including NorthStar Medical Technologies LLC ("NorthStar"). HHC is currently the majority shareholder in NorthStar.
Jon Coulter is Managing Director at Hendricks Holding Company, Inc. ("HHC") and has responsibility for several HHC portfolio companies, including NorthStar Medical Technologies LLC. Jon has served on NorthStar's Board of Managers since 2010. Before joining HHC, Jon was an investment banker at Robert W. Baird & Co. ("Baird") and a Principal at Baird Capital Partners, the private equity arm of Baird. Jon also was an investment banker at Cleary Gull, Inc
Jon served twelve years in the U.S. Air Force as an Operations Staff Officer and Instructor Pilot, and is a veteran of Operation Desert Storm. He earned a Bachelor of Science from Purdue University and an M.B.A. from the University of Wisconsin – Madison.
Randy has served as a Board Member of NorthStar since 2012. He led an investment group that supported NorthStar's early development and has continued to invest in the growth of NorthStar's industry leading technology. Randy is a food industry veteran with two decades of senior executive leadership at Kerry plc, where he gained extensive experience of compliance with FDA regulations. In retirement he continues to be active in the food industry through consulting and Board roles, which has enabled him to keep current of industry dynamics and FDA policy. He has been a leader and active member of Stateline Angels, who have invested over $10M in 20 companies during the last decade.
Steve, appointed as President and Chief Executive Officer of NorthStar in September 2018, has more than 25 years of experience in the biotechnology, pharmaceutical and life sciences industries . He has held multiple executive positions with leading multinational companies, including leadership of nuclear medicine businesses. Steve has extensive general management and corporate officer experience, and a proven record of accomplishment with integrating science, engineering and commercial activities to drive complex projects to successful completion. Steve also served in the Royal Navy as a Nuclear Submarine Officer, where he specialized in Navigation and Operations.
Steve received a BSc (Honors) in Engineering Science from the University of Exeter and an MBA from the London Business School, both in the United Kingdom. He also completed the Nuclear General Course at the Royal Naval Staff College, Greenwich in the United Kingdom.
Paul brings more than 30 years of relevant experience to NorthStar where he is responsible for the Financial operations of the company. Prior to NorthStar, he was the CFO of Melinta Therapeutics, Inc., a publicly traded company focused on the discovery, development and commercialization of novel antibiotics. During his five-year tenure at Melinta, Paul guided the company in the process of converting from a private to public enterprise, raised more than $500 million in support of the company, assisted in the acquisition of products from other companies, facilitated a merger and supported the commercial launch of multiple products. Prior to Melinta, he spent more than 20 years with Baxter International, Inc. where he held both financial and non-financial positions of increasing responsibility. During his tenure at Baxter, his experiences included divisional CFO for various divisions of Baxter, CFO of Baxter's operations in Japan and serving as the Vice-President of Integration for a large acquisition. Prior to Baxter, Paul was a public accountant with Arthur Andersen & Co.
Paul earned a Master of Business Administration degree from the Kellogg School of Management at Northwestern University and a Bachelor of Science degree in Accounting from Illinois State University.